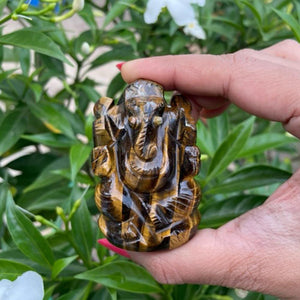 Tiger's Eye Ganesha
Rs. 1,599.00

Rs. 1,599.00
Tax included.
---
---
Tiger's Eye Ganesha- Ganesha Idol in Tiger's Eye.
Ganesha is widely revered as the remover of obstacles, the patron of arts and sciences and the Deva of intellect and wisdom. As the god of beginnings, he is honored at the start of rites and ceremonies. Ganesha is also invoked as patron of letters and learning during writing sessions.
Length 2.5 inch
Width 1.5 inch
Gemstone - Tiger's Eye
Stone - Natural
Sold as 1 pc.
Delivery time within India - Delivery will take 4-5 working days. 
Note : As these are natural semi precious stones - small pinholes & fissures will exist.  (TLS)
Check out the link below for 360 degree view of the product 👇🏻
https://youtu.be/9tWDN657LIA
---
We Also Recommend
---