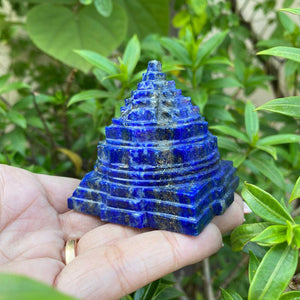 Lapis Lazuli Shri Yantra
Rs. 2,599.00

Rs. 2,599.00
Tax included.
---
---
Lapis Lazuli Shree Yantra. Sri Yantra or Shri Yantra.

What is a Shree Yantra?
The Shri Yantra, Sri Yantra, or Shri Chakra is a form of mystical diagram (yantra) used in the Shri Vidya school of Hinduism. It consists of nine interlocking triangles that surround a central point known as a bindu. These triangles represent the cosmos and the human body.
Placement
If you are using a Shri Yantra in a home or office, the Vedics recommend that it faces East. They also suggest occasionally bathing the yantra, if it is a copper and gold plate, in milk or rose water. If you want to go all out, place dots of sandalwood paste on the four corners of the yantra. Keep your yantra from accumulating dust or dirt.
 Length 2.5 inch
Width 2.2 inch
Gemstone - Lapis Lazuli 
Stone - Natural
Note : As these are natural semi precious stones - small pinholes & fissures will exist.
Delivery time within India - Delivery will take 4-5 working days. 
---
We Also Recommend
---